Programming has been an integrated part of my work (and my hobby:)) since graduate school, so over the years, I have created a number of open source projects. Most of them are related to Dao, but in attempt to create various modules and bindings for Dao, I managed to expand the projects to touch various types of libraries and applications.





Dao - Programming Language and Virtual Machine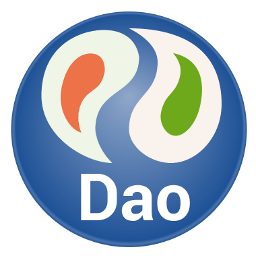 Dao is a lightweight and optionally typed programming language with many interesting features. It includes features that can make concurrent programming much simpler. It has well designed programming interfaces for easy embedding and extending.
Optional typing with type inference and static type checking;
Object-Oriented Programming (OOP) with classes and interfaces;
Code section methods as a better alternative to functional methods;
Native support for concurrent programming;
Concurrent garbage collection;
Support typed coroutines and function decorators;
Support closures, anonymous functions and classes;
BNF-like syntax macro for defining customized syntax;
Designed and implemented as a register-based virtual machine;
Portable implementation using standard C;
Simple C programming interfaces for easy embedding and extending;
Size: about 60K lines of C codes.
Links: daovm.net, github.com/daokoder/dao.
DaoJIT - Just-In-Time (JIT) Compiler Using LLVM
ClangDao - Automatic Binding Tool Using Clang Frontend
ClangDao is a tool that can be used to automate the generation of Dao language bindings from the header files of C/C++ libraries. It uses the Clang (clang.org) frontend to parse header files. It has been used to generate bindings for over a dozen of libraries.
Size: about 8K lines of C++ codes.
Links: daovm.net, github.com/daokoder/dao-tools.
DaoStudio - Integrated Development Environment for Dao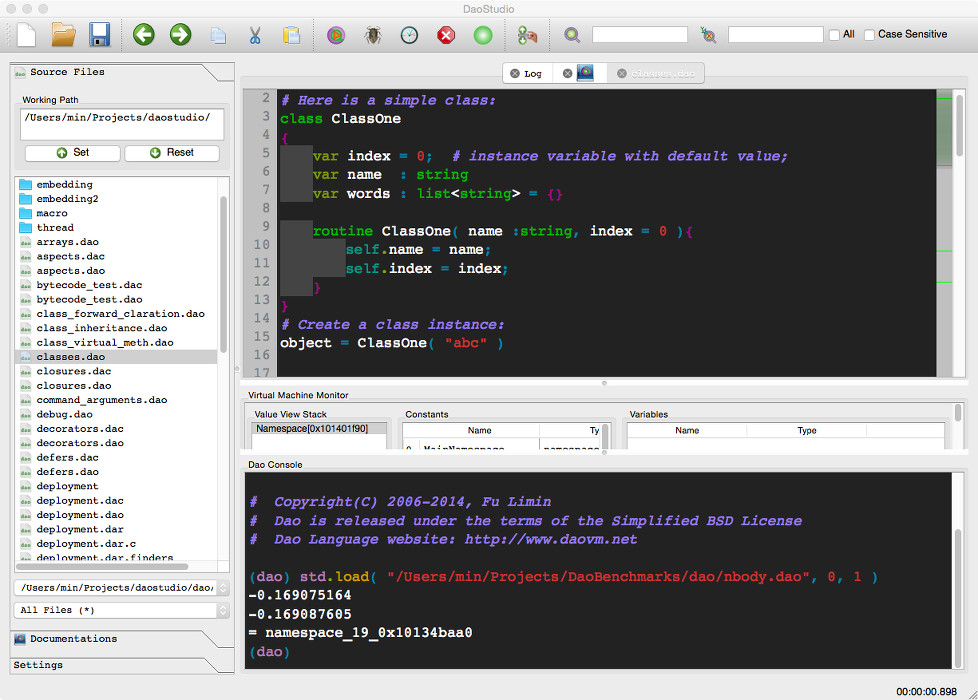 DaoStudio is an integrated development environment for Dao. It uses the Qt4 framework.
Size: about 11K lines of C++ codes.
Links: daovm.net, github.com/daokoder/daostudio.
DaoGraphics - Dao Graphics Engine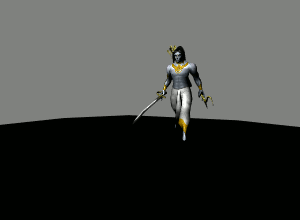 DaoGraphics is a lightweight graphics engine written in C with interfaces to Dao.
Support for both 2D and 3D graphics;
Resolution independent 2D vector graphics;
Support animation, particle system and terrain generation etc.;
Support OpenGL 3.1+ and OpenGL ES3;
Minimum dependency (Dao and GLFW3);
Size: about 22K lines of C codes.
Links: daovm.net, github.com/daokoder/DaoGraphics.
DaoSQL - Module for Accessing SQL Databases
DaoSQL allows mapping Dao classes to SQL database tables, and provides a simpler way to access those tables through Dao class instances. Currently it supports PostgreSQL, MySQL (MariaDB) and SQLite3 backends.
Links: daovm.net, github.com/daokoder/DaoSQL.
CD-HIT - DNA/Protein Sequence Clustering Program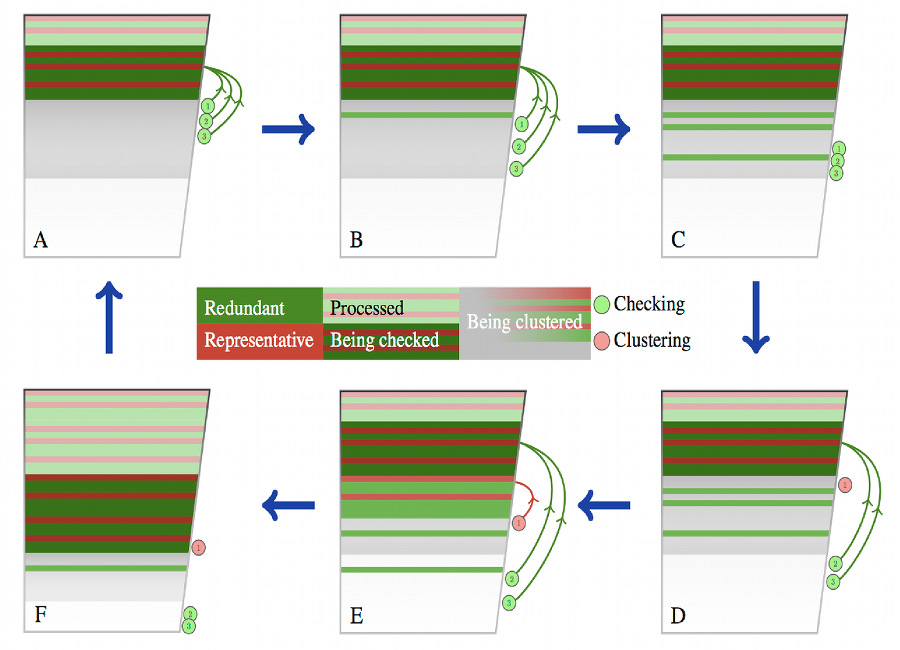 CD-HIT is a popular program for clustering DNA/protein sequences originally developed by Dr. Weizhong Li. It implements a greedy algorithm to cluster sequences incrementally and efficiently. I toke over the development in 2009 and rewrote most parts, in addition, I developed a novel parallelization technique that can speedup the clustering algorithm almost linearly on multi-core machines.
Links: cd-hit.org, cdhit.googlecode.com.
FLAME -
F

uzzy clustering by

L

ocal

A

pproximation of

ME

mberships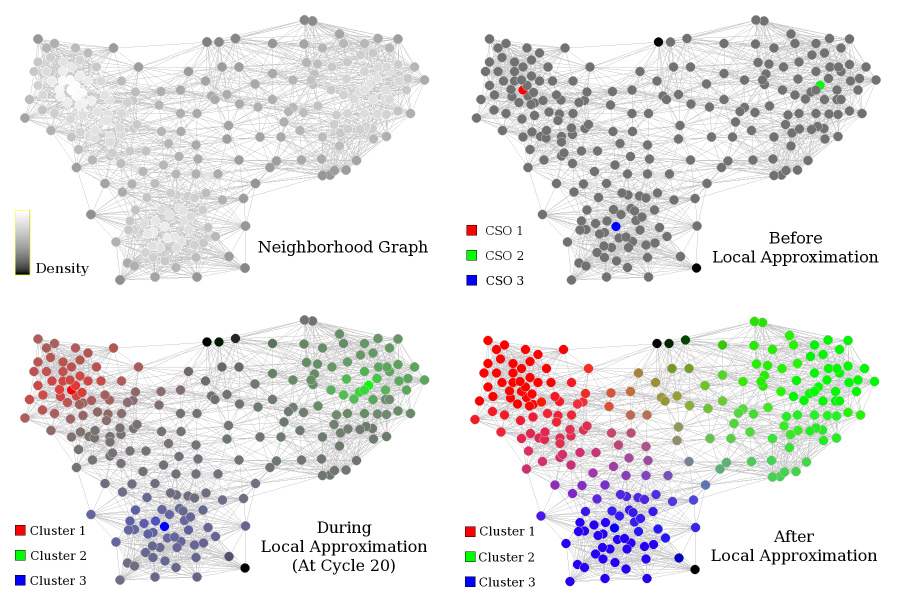 This FLAME is NOT the malware that surfaced last year:), it is a data clustering algorithm I developed a few years ago. FLAME defines clusters in the dense parts of a dataset and perform cluster assignment solely based on the neighborhood relationships among objects.
Links: flame-clustering.googlecode.com.
GEDAS - Gene Expression Data Anlysis Studio
This is a software I developed along with the development of the FLAME algorithm. It provides user friendly interfaces for analyzing and visualizing gene expression data. Note: GEDAS is no longer maintained.
Size: about 15K lines of C++ codes.
Links: sourceforge.net/projects/gedas.